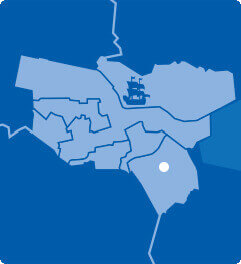 a&o Hostels and Hotels Amsterdam
Amsterdam – canals, tulips, bicycles and Heineken
Visit us in our a&o Hostels and Hotels in Amsterdam. It would be hard to find another city with such seductively romantic canals. The people of Amsterdam seem almost to have discovered a secret recipe for a satisfied life at a relaxed pace. Roll through the city on a typically Dutch-style bike, cross over the bridges and stop at a local café to sample pannekoeken pancakes or nasi goreng (the former colonies ensure that Indonesian cuisine here is wonderfully authentic) before meeting with friends for a biertje – preferably Amstel, Brandt or the favourite export Heineken – in the city's most delightful gardens, the Vondelpark.
a&o Hostels and Hotels Amsterdam Zuidoost and its local highlights
The
a&o Amsterdam
is just a few metres away from the Bullewijk metro station (Zuidoost district) and is therefore a perfect starting point for rambling tours through Amsterdam. For instance, the Van Gogh Museum attracts droves of art enthusiasts keen to marvel at the largest art collection by the famous painter Vincent Van Gogh. Bijlmerpark – summertime venue to the Kwaku Festival – is also not far from our hostel. The railway station, which our Dutch friends call Centraal Station, is easy to reach from our hostel by public transport. Our a&o itself has stacks to offer. The days of dormitories are finally over, and guests in our hostel will reside in modern multi-bed rooms without a hint of youth hostel character. The only leftover is the unbeatably attractive price. The hotel section caters to its guests in single, double and family rooms.