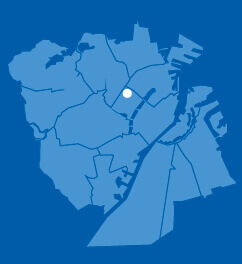 Copenhagen - hometown of the little mermaid
a&o Hostel and Hotel Copenhagen
With the a&o Hotel and Hostel Copenhagen, you will find your ideal accommodation in the heart of Denmark's cheerful capital and harbour. The cosy city has a lot to offer! You will love the flair and vibes surroundings the once busy commercial port "Nyhavn", where ships from all over the world used to sail off. Enjoy great food and jazz music! There is hardly any other place where you can get a better taste of fresh Baltic Sea products than on the promenade "Langelinie". The little mermaid is waiting for your visit!
Copenhagen is also regarded as Scandinavia's fashion capital: Trendsetters are buzzing on the many shopping streets of the beautiful old town. The Strøget is the longest and oldest pedestrian zone in Europe.
Amalienborg Castle is the best spot to get some royal insights! Watch the change of guards every day at noon! If that is not enough, the castles of Christiansborg and Rosenborg are worth admiring. All palaces are located in the heart of the city.
Colourful gabled cottages, inspiring people, ancient buildings and beautiful castles - it is easy to to fall in love with Copenhagen.
The a&o Copenhagen in a young vibrating area
Situated in an upcoming area of Nørrebro, the brand new house is modernly furnished in the "a&o: next generation" design concept. See for yourself - it's worth it!
In our great XXL lobby you can check-in quickly and easily with our friendly receptionists. Whether you stay in a dorm, family room or classic hotel room, you will sleep comfortably and at the best price. Start your day with our rich all-you-can-eat breakfast buffet. There is also a lot of snacks and drinks at our bar. You would like to cook yourself? No problem: Our inviting guest kitchen is waiting for you!
In addition, the house scores with its own laundry and a relaxing reading corner with a small library. In addition to the location's unique feature (a students' hall of residency closeby), there is also a "Students Only" area.

.