Group trips: Travel at the best price – book your group accommodation with a&o
Are you planning a group trip? Are you searching for ideas and suggestions for your group trip? For inspiring destinations as well as activities? Are you looking for group experiences which will entice everyone in your party? And, would you like a group accommodation that combines the perks of comfort and the best-possible service – and all that at unbeatable prices? Discover how to book your group trip online with a&o – completely hassle-free.
It doesn't matter whether you are
vacationing with your family,
travelling with friends and acquaintances, planning your bachelor party, a weekend with the girls,
planning a school excursion or graduation trip,
going on a study trip with a seminar group,
travelling with athletes to a training camp or to a competition,
scheduling a bowling tour or club/adventure trip with members of the same association,
preparing an educational, team building, or business trip with work colleagues, or
meeting business partners on-site to plan an appointment.
During your group trip, you would like to explore your group dynamics in new ways, strengthen your community, or delve into a shared interest. The demands you and your group place on your group trip are various and varied – but for us at a&o, they are business as usual.
With our a&o Best Price Guarantee, we offer centrally located accommodation in the most popular cities in Germany and the rest of Europe at the best price – find out for yourself!
a&o hotels: Ideal for groups and group trips
Our group prices are available from 10 persons onwards. Take advantage of the best a&o price and further exclusive a&o cost benefits for groups:
1. Best price: We always offer the most attractive prices for your stay when booking directly online through aohostels.com. That's what we call the a&o Best Price Guarantee. For groups of 10 travellers and up, we offer our special direct group price list. Save 10 percent on the standard rate – breakfast included.

2. Free nights: Every 21st person in your group stays for free at our a&o– with catering included.

3. No membership: contrary to some other youth hostels, you do not need a membership to stay with a&o.

4. Group-specific cancellation: We offer special cancellation conditions for groups. Are you travelling with more than 20 persons? Then our policy changes as well(find out more in our GTCstc)

5. a&o lounge for teachers: Many of our a&o accommodations offer an a&o lounge, an oasis of quiet for teachers during a busy school trip. Here, you can work out the itinerary for example. The lounges have a telephone (for calls within Germany), fax machine (global connections), and printer as well as coffee and tea free of charge.

6. Trainer bonus card: The "a&o Trainer Card" is available to all group leaders and trainers of travelling groups of athletes. The free bonus card offers a 5 percent discount on group accommodation (Find out more about the a&o Trainer Card here).

7. Special guest: Group leaders, tour guides , and bus drivers can use their "a&o Special Guest Card" to order non-alcoholic drinks for free at the 24-hour bar.
Together with these cost benefits, a&o offers you everything you need to plan, book, and organise your group trip in advance: information, ideas, checklists (also downloadable and printable for class and graduation trips), as well as our booking service.
During your stay at a&o, we cater to all your group needs at any time. Our a&o accommodations are perfect for travelling groups of children, teenagers, young adults, seniors, and diverse groups of younger and older travellers such as families: the attractively priced hotels are spread out over the most-popular German and European cities and are always situated right at the heart of the action. Experience all the highlights and the unique urban feel of your travel destination up close.
Full-range service – groups can count on us, day & night!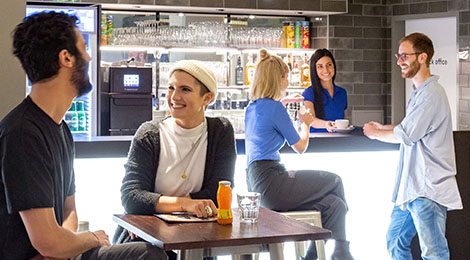 Are you and your group arriving with your own bus? We've got good news for you: most a&o accommodations offer free bus parking for travel groups at only a stone's throw away. Regardless of your arrival time – the reception staff at your a&o awaits you round the clock for comfortable check-in. Your rooms are in principle ready for you from 3 p.m. onwards.
Our friendly staff looks forward to assisting you in planning your leisure or exploration programme, helping you book tickets for everything ranging from city sightseeing tours and museums to musicals. At night, we cordially invite you to see a day chock-full of activity to an end in our cosy hotel bar and common rooms.
Full-flavour – we dish up plenty for everyone!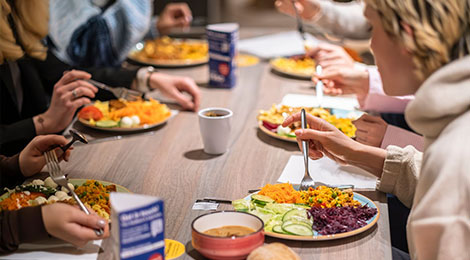 Our rich breakfast buffet, which you can book as an option, has something for every taste. If you also opt for our dinner option, you can enjoy all dishes of our salad buffet.
We also offer baguettes, desserts, and drinks for your group dinner. Are you travelling with vegetarians? Don't worry, a&o's got them covered as well. Simply specify the number of vegetarians travelling with your group during the booking process and we'll make sure to prepare plenty of vegetarian food as well. Take advantage of the a&o lunch offer: give us advance notice or inform reception one day in advance to request the convenient a&o lunch packages. We make sure your group is stocked with all the necessities for a satisfying and self-catered lunch. Download the current dinner plan for all cities except Edinburgh. Download the current dinner plan for Edinburgh.
Fully packed – conference rooms for groups of up to 150 persons!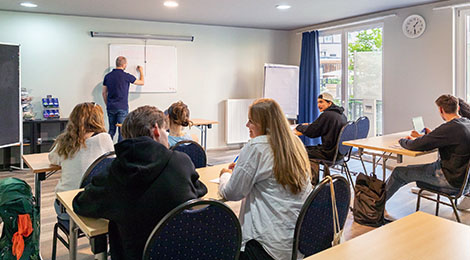 Are you looking for a fitting meeting space for your group? Our conference and seminar rooms are available to travelling groups free of charge. Would you like to ensure availability of the room, for example to schedule a lecture, meeting, or sociable gathering? No problem, with our group rental rates: from 10 persons upwards, you will receive a one-time 5 euro discount on the conference room for each room you've booked with us. We've listed the number of available conference rooms, as well as their size and facilities, online and sorted by city (more information on conferences at a&os) – get peace of mind and book your group meeting space in advance.
Full programme – we find the right offers for groups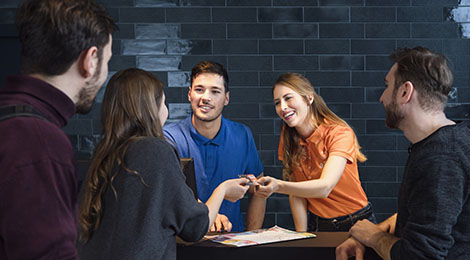 Our special group concierge service takes care of travellers during their stay. They are at the service of travelling groups and handles all types of requests, both relating to a&o services and with other inquiries such as tickets, delays, and advice on the destination city. The group concierge can be reached from Monday through Friday via the following phone number +49 30 80 947 5162.
Would you like to add an activity or two to your itinerary on the spot? Trust on a&o! We know all the ins and outs and hotspots of our cities, and are delighted to help you find and experience local cultural, sports, and recreational highlights. Book your tickets for city sightseeing tours, museums, theatre shows, musicals, cinemas, sports stadiums and events, and other spectacles through us.
Express booking for our accommodation
Our group accommodation at the most popular a&o locations
Are you looking for the perfect destination for your group trip? Allow us to introduce our most popular a&o accommodations in the trendiest cities in Germany and the rest of Europe.