Leafing through books at A&O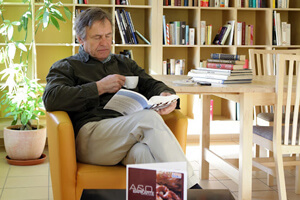 In addition to the cozy sitting areas, there will be library-retreats where you can take your time browsing and getting lost in our book range.

Since such a library practically lives through its readers, we would like to encourage our guests to exchange books. In small, remote accommodations of this world this so called 'book swap' already is a little sensation and has helped travellers through some very rainy days. That's why such a book exchange is a must-have at A&O!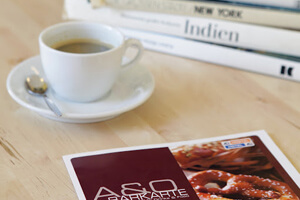 Which of us is not familiar with this situation? You travel for quite a bit and all your reading material is already used up and you haven't got any money to buy some new? Or on the other hand, you're travelling with bulky book in your backpack and would like to swap it against something light, possibly amusing? Or imagine scenario no. 3: Your feet hurt after a long day of sightseeing so that you want nothing more than relax with a good novel or funny comic and a nice cup of tea?

No matter the cause, A&O has got the right thing for you.
Of course, our little guests get the same attention as the big ones, having not only their own colouring booklet but also their A&O kids' library in the future.