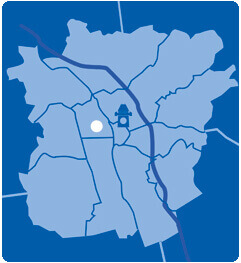 AO Hotel and Hostel Graz
Graz - capitale della Stiria e "City of Design"
La città verde sulla Mura nella rinomata parte sudorientale dell'Austria è un vero gioiello. Perla della Stiria, insignita di prestigiosi titoli come quello di Patrimonio dell'Umanità dell'UNESCO e di "City of Design" in virtù dei suoi beni architettonici, tra i più preziosi al mondo, Graz offre un centro storico tutelato dai beni culturali di una bellezza che si contende il primato con Vienna. Dall'impegnativa quanto incantevole salita alla "Schlossberg", la montagna del castello, con la Torre dell'orologio, l'attuale simbolo della città, fino alla Lendplatz, sede dei brulicanti e vivaci mercati cittadini: tutto a Graz acquista un fascino particolare! Per chi vuole visitare La Kunsthaus di Graz, o il "friendly alien" come amano chiamarla affettuosamente gli architetti, non c'è niente di meglio che una bella pedalata sulle rive della Mura, per ammirare una veduta sull'omonima isola che merita da sola una visita alla città! Non vi abbiamo ancora convinto? Venite a vedere in prima persona l'AO Graz Hauptbahnhof e lasciatevi inebriare dalla vivacità di questa città universitaria e dal suo intreccio di giardini e viuzze!