New openings 2016
A&O Hotel and Hostels has set itself the goal to open two new houses each year using just its own financial resources.
This year we are very proud to open these A&O Hotels and Hostels.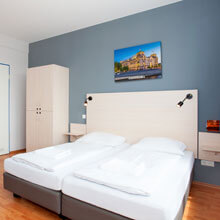 A&O Köln Hauptbahnhof
Ursulaplatz 10-12
50668 Cologne
Opened in January 2016

Our A&O Köln Hauptbahnhof is super close to Cologne's main station and the perfect accommodation to start your city trip!
The former Hotel Madison offers 31 rooms with 139 beds that are available for guests since January.

Book here: A&O Köln Hauptbahnhof!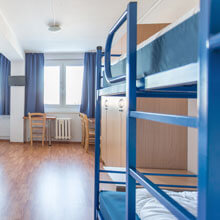 A&O Prag Rhea
V Uzlabine 3068/19
Tschechien - 10851 Prague

Opened in March 2016

With the opening of A&O Prag Rhea the city of Prague now has two A&O low budget hotels.
The hotel property of the CPI hotel group in V Uzlabine, formally known as Fortuna Rhea, noew offers 494 beds, split into one double room and 123 family rooms (4 beds).
Book here: A&O Prag Rhea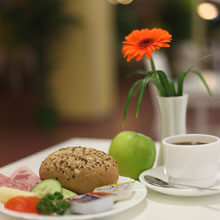 A&O Salzburg Hauptbahnhof
Fanny-von-Lehnert-Straße 4
Österreich - 5020 Salzburg

Openend in June 2016

The forth A&O Hotel and Hostel in Austria but the first in Salzburg! Located in the memorable Fanny-von-Lehnert Street (home to the former production halls "Konsum Union" which now is a cinema complex and a coffee roastery Meinl) this medium-sized hous will open in late summer.

Book here: A&O Salzburg Haupbahnhof
Got an interesting property for A&O?
We are also always interested in finding new properties suitable to become an A&O hotel. The following locations are potential new investment opportunities for us:
Properties in Germany:
Bremen, Heidelberg, Freiburg, Cologne, Münster, Regensburg
Properties in Austria

:
Innsbruck
Properties in the Netherlands:
Amsterdam
Properties in Italy:
Milano, Florence, Rome, Bologna, Genua, Siena
Properties in Belgium:
Antwerpen, Bruges, Brussel
Properties in Denmark:
Copenhagen
Properties in Hungary:
Budapest
Properties in Sweden:
Stockholm
If you have a property we might find interesting to aquire and if you would also like to work with us, we are happy to receive your message: Contact us