Cooperations with a&o Hostels
There are different ways to cooperate with a&o Hostels. Are you looking for cooperation partners with whom you can really get started? Take a look at the different cooperation possibilities here and simply send us an e-mail to get in touch with us.
The exclusive online booking template for travel agencies and tour operators
The exclusive online booking template for travel agencies and tour operators
We offer you a fair and clear sales model - suitable for travel agencies, tour operators and resellers. Become a member and benefit from the advantages: register here
After successful registration, the access data will be sent to you by e-mail.
Your benefits:
No costs / no contract commitment
24h available
Access to real-time availability
No call or fax necessary
Reseller conditions from the 1st booking onwards
Booking at purchase price incl. recommended retail price; margin up to 15%.
No minimum sales
Convenient online payment by credit card without additional fees
Beds in the MBZ can be booked individually
Portfolio of almost 28,000 beds at 40 locations (single rooms, double rooms, family rooms, multi-bed rooms)
Quality and safety at a&o:
TÜV tested according to the criteria of the "Youth Hostel Quality Standard".
4-star certificate with the Quality Management for Youth Travel / Reisenetz Quality Seal of the German Umbrella Association for Youth Travel
Technically savvy travel companies benefit from their own XML interface!
Your benefits:
All spare capacities with 1:1 availability for you
Work simplification through independent booking
No confirmation from a&o needed
Continually updated every 30 minutes, around the clock, thereby making free rooms available to partners quickly for them to sell
Instant connection and thus immediate sale of new a&o's
Fewer errors and effort when submitting booking data
Flexible pricing allows partners to sell with a dynamic rate structure, whereby an optimal price and rate parity to other channels as well as a&o itself is ensured
The functions:
Automatic update of complete a&o availabilities within the partner system
Optimization and transmission of the room rate, depending on predefined parameters
Automatic extraction of bookings from the partner system, and forwarding to a&o's system
Automated processes run repeatedly every 30 minutes
Wholesaler:
Resellers receive binding prices as well as cancellation and payment conditions, which are based on the sales strength of the partner. Ready for the next move?
Become an influencer at a&o Hostels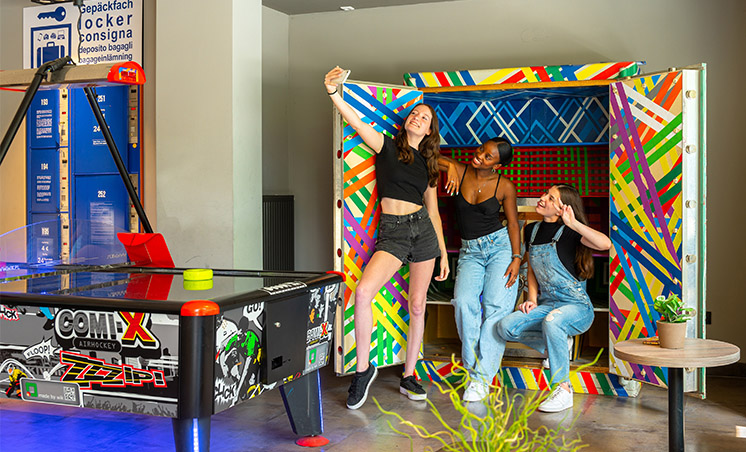 UWith us #everyonecantravel – and you will help us spread it. You will be able to uncover new destinations, share your adventures with your community and enjoy a great stay & service at our hostels.
Are you a content creator and passionate about travelling? Then apply now and become an influencer at a&o.