Sustainability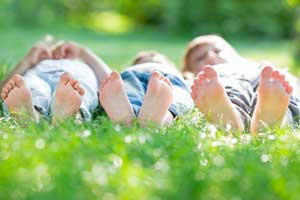 Especially in today's time sustainable tourism is an important aspect which will influence future developments in the travel industry significantly. We think it is necessary and meaningful to highlight the debate of "Corporate Social Responsibility" as it needs even more public attention. By showing you what we do already and what we strive for in the future, we make our very own contribution to more transparency.
a&o Hotels and Hostels is a family company that literally lives the value of "responsibility" embedding this principle very high in its own hierarchy of values. We are aware of the responsibility we have towards our guests, partners and employees. We respectfully carry this responsibility.

For this reason, we consider all three pillars of sustainability in our strategic direction and operations of our business!
ECONOMIC SUSTAINABILITY
As a company, one must inevitably ask the question, what kind of responsibility one bears for the economy, its employees and - as a service provider - for one's guests.
We have managed our growth through our own funds and resources, and are debt-free. Profits flow back directly into the company allowing new openings, new job offers and modernisations to our existing buildings.
The central administration based in Berlin, uniform standards have been created throughout the chain in German and English; such as in the areas of workers' rights and wishes, ecological compatibility, cooperation and customer suggestions.


• Information about the a&o chain and its growth you can find (in German language) here.
• Find out more about the concept of success, history and vision here.
ENVIRONMENTAL SUSTAINABILITY
In all a&o buildings, we use water- and energy-saving products (e.g. energy-saving lamps or showerhead aerators that foster less water consumption and provide an increased mix of air and water, and thus saving 1/3 of water for every shower guests take). Guests won't find any printed advertising material in their rooms (nor plastic) except for the "Do Not Disturb" door hanger, the hotel's magazine and a hotel business card with all a&o locations.

Furthermore, we clean resource-conserving by the guiding principle of "Eco Cleaning" since 2014. In the hotel industry, this point is the greatest challenge in terms of the environmental impact: To strike a balance between the cleanest room possible without an excessive use of "chemicals" has become our credo since then.
Only very mild acids are used which are mixed automatically by dosing at 1% concentration. All cleaning products are high quality and therefore particularly durable: This way, towels and mop are washable up to 200 times. The biggest difference regarding our eco cleaning is the abandonment of water and power-hungry programmes that requite the daily use of chemicals.
The sequence of our eco cleaning is as follows: airing the room, filling up the dispensers (soap, 2in1 shower gel, facial tissues, toothbrush mug, toilet paper), emptying the bins and changing the bath mat. Before a guest gets to check-in into "his/her" room, of course, the room is completely dusted, hoovered, mopped and the bathroom gets cleaned. Another plus point: toilet paper and facial tissues in the bathrooms are FSC certified.
a&o encourages its guests to separate their waste thanks to a well-functioning waste management. By developing a system of returnable bottles, plastic waste in the rooms and public areas minimises steadily.
In addition, guests can take their read books and replace it with a new thrift book from the "Book Swap" library in every lobby. Bicycle rentals and great locations close to public transport automatically lower everyone's CO2 footprint because guests often choose this means of transport. Furthermore, students can apply their knowledge to a&o's CO2 quiz for groups. If the get the answers right, they can score different amounts of points which result in varying discount codes. These can be used for their next a&o group booking.
a&o has checked all German hotels for their CO2 emissions. We are extremely proud that our CO2 average is only 8.96 kg CO2 / night. This value is three times lower than in other two and three star hotels - the average being around 26 kg CO2 / night. We can achieve these great results by living without a restaurant and spa and by focussing on high surface efficiency through shared rooms. We are the first German hostel chain that has undergone such an emission check!


• For more information about a&o's quality standards and test seals can be found here
SOCIAL SUSTAINABILITY
We know how important good employees are, which is why personnel development is an important part of our corporate philosophy. Thanks to our continuous growth, we have the chance to further employ and train almost all of our apprentices after they have passed their exam. In addition, our employees are covered by a special staff retention system directly involving them in the company's success.
The budget chain has launched its own teaching institution called a&o Academy where future hotel and front desk managers learn all about a&o's product range. Also, they get a greater understanding of the system hotel industry starting from scratch. The traineeship focusses on potential hotel managers aiming to provide them with their "own" a&o Hotel and Hostel after successful completion.
Intense coaching and additional certificates (e.g. First Aid Course) provide the necessary know-how; the central ideas being safety, service and personnel management. In addition, the needs of teachers and young people are covered. Trainee hotels currently are: a&o Leipzig Hauptbahnhof, a&o Cologne Neumarkt, a&o Berlin Friedrichshain.
In the field of social sustainability is also often spoken of "intergenerational justice". That is why we support projects in the area of (school) education and climate protection; particularly many small and nationwide projects. For a company with the main target groups, students, teachers and families sports sponsorship of youth teams play an important role, too. Our longest partnership exists with the SOS Children's Village Foundation since of 2004.

• Information on social projects that are sponsored by a&o click here.
• If you are interested in becoming part of a&o's team, visit our job market