Meeting, helping, asking and chatting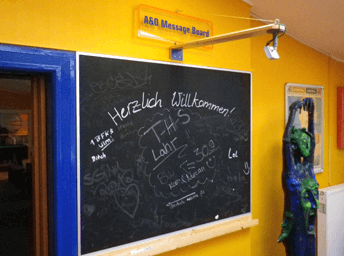 Our A&O Message Boards for guests and families are the practical little helpers for in-between
It's so easy: just pick a post-it or pen and recommend the best snack in town! Or simply find a karaoke partner for tonight in the community room! Want to know the best playground nearby? Our message boards plus chat tool make it possible!

We want to spare you the time scouting the travel guides and will instead make instant tips and tricks possible from guest-to-guest and family-to-family.

It also gets easier for individual travellers or small groups to have more social interaction or to make friends. Who knows which new, interesting acquaintances you might still have contact with after your journey? Or which secret tip is still in your mind after 2 years, simply by having read it on such a message board?

An inspiring join-in campaign for all those who like to communicate, help or meet!

And the best thing about it: we have boards both for guests or families and kids. In order to see whether someone answered to your message in time, we will set up A&O web cams showing all boards in real-time!

So all there's left to say is: try it out for yourself and make the best out of your holiday!