Fun in the Ho(s)tel
In the spirit of our EdYOUtain-thoughts, the gathering of our guests with each other, we offer you and your class specific group rooms and bars with Sky-TV, table football, billards, table tennis, and a Wii lounge. Also we have libraries for children and adults as well as the Photo Fun Boxes in all of our larger hotels, which are very popular.
The class trip alone brings students together. So what's better than shared experiences such as karaoke, student-discos or your very own event? We also support your trip by planning and providing you with exciting evenings.
EdYOUtain
Community Facilities
24-Hour Bar with Karaoke
edYOUtain

EdYOUtain: the first part stands for education, the last part for entertainment.
True to the motto, We share, we care!
In education, we support groups in advance with our specially developed CO2 Quiz, accessible at quiz.aohostels.com (German only).
A&O contributes to environmentally-friendly travel and recommends school groups and teachers travel by public transport of well-filled buses. Methods, instructions, and ideas on environmental friendliness and sustainability are located on
A&O's Pinterest-Board "A&O Goes Climate-Friendly".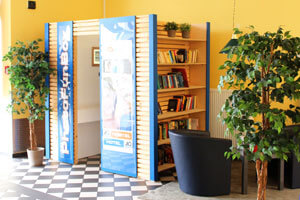 EdYOUtain covers even a lot more areas, such as its own book exchange library, the hotels' INHOUSE magazine with tips on every A&O city, and its own app, which is free and has travel guides, so that navigation back to the A&O is easy and safe. Each A&O Hotel and Hostel has information on outings, restaurants, bars and local sightseeing, complete with opening and closing times, links to the website, recommended transporation routes, and much more.

Also, take a look at the A&O Blog, the "A&O Magazine" (German only). Often the reception staff and trainees write articles on the city's best-kept secrets. Also activities and current contests for guests are posted there first.
Community Facilities

In almost every A&O Hostel there are common areas with integrated game modules, such as billards, table football, or a TV room with comfortable seating. As a class, we invite you to relax and have fun.
If you still need more private space in the mornings before you start your day of sightseeing, or in the evening in preparation for the following day, please ask our front desk staff. We can offer you a seminar room, if available, free of charge. See "Exclusive Advantages" for more information.
24-hour Bar with Karaoke

In every A&O Hotel und Hostel there is a 24-hour lobby bar. In addition, many A&O's offer rooftop bars with panoramic views over the city. Some even have a small dance floor in the basement. This provides a great opportunity to enjoy the evening with your group in a fun and friendly sharing a soft drink, or relaxing without students with a cocktail, beer, or wine.
We guarantee that your students can only buy the drinks that you allow, and are allowed by law, depending on age. Please refer to our "Security" section.
If you're still hungry in the evenings, we have yummy offerings such as delicious pizzas, muffins, and other salty and sweet snacks.
In all of our bars we broadcast live sports over Sky Sports News on flat screen TVs. This is a good time and place for group leaders to get together in the evenings.