Buffet - Catering
a&o caters around the clock for you and your group. The addition of full board booking starts at 10 persons. It not only includes breakfast and packed lunches to-go, hot lunches or dinners, and summer barbecues. All of these components you can select on a daily basis.
Another plus point for you: a&o will gladly consider special requests or food intolerances (for example, gluten or lactose intolerance, vegetarian menus, or religious dietary restrictions, etc.) with at least 7 days notice. Contact our Group Reservations Department by email, including your booking number.
All You Can Eat Breakfast
In the group room rate, you'll enjoy a full All You Can Eat Breakfast included. For you and your students, this means a choice of cereals, whole grains & müsli, fresh bread, boiled eggs, yogurt, cottage cheese, various cold cuts and cheeses, tea, coffee, juices, fruit, and salads.

All A&O Hotels hold the same breakfast times:

• Mon - Sun from 7:00 AM to 11 AM

We only use products from reputable manufacturers such as Tchibo, Granini, Kellogg's, Messmer, Honnerus, and REWE Food Service.
Packed Lunches To-Go
We will happily provide for your group while they are out on excursions in the city: Our Packed Lunches To-Go consists of a sandwiches, candy, a piece of seasonal fruit, and a drink.
The pre-packed lunches can be picked up between 7:00 AM and 11:00 AM while the group has breakfast. If you desire to pick up the lunches later, our employees can keep them refrigerated until you need them. The group leader can let us know at the reception when the desired pick-up time would be. The a&o Service Team will then bring them to the reception desk for pick up.
Lunch and Dinner Buffet
We can also provide lunch or dinner (salad, main course, dessert). For the latter, we can also offer vegetarian options. As a special school group experience a barbecue can be organized if half board was chosen (can be subject to weather conditions).

Lunch consists of a starter, a main course with a choice between a meat and a vegetarian option, a dessert, a rich salad buffet and a non-alcoholic beverage of your choice from 9,50 Euro*;. Please understand that we can offer lunch by reservation. If you have any requests regarding meals or meal times, please let us know so that we can do our best to accommodate you.

We recommend the a&o Dinner particularly for active groups who want to end the day in the evening together at a nice, inexpensive dinner buffet. Dinner has the same design as lunch and also costs from 9,50 Euro / day*.
*At the a&o Amsterdam Zuidoost, the price for lunch and dinner is 10.80 euros/day and must be booked before arrival. This offer is not valid in the a&o Cologne Dome, a&o Munich Central Station and a&o Hamburg Hammerkirche.

Looking at the dinner plan in advance would be worthwhile. The menu for all a&o locations is found here: Dinner.

Meal times are from 5 PM to 9 PM. If you are unable to come during those times due to certain program plans, and you know this in advance, we will find an individual solution for you. Please give us advance notice.

a&o offers lunch and dinner in almost all locations for groups of 10 or more people. Only at a&o Hamburg Hammer Kirche, a&o Köln Dom, and a&o München Hauptbahnhof is this service not offered. At cities with more than one a&o, you can pre-order half or full board at another a&o in the city, have your meals there, then return to your original a&o for the night.
Guest Kitchens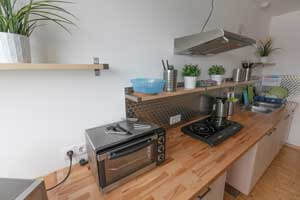 The a&o Guest Kitchens are perfect for smaller groups who prefer to cook for themselves. The Guest Kitchen offers everything budget-couscious travelers need: pots, pans, cutting boards, dishes, cooking utensils, spices, and most importantly, hot plates.
Seating is limited to between 4 and 10 people.
Guest kitchens are available in the following locations:
a&o Aachen Main Station
a&o Amsterdam Zuidoost
a&o Berlin Friedrichshain
a&o Berlin Main Station
a&o Berlin Mitte
a&o Berlin Kolumbus
a&o Copenhagen Nørrebro
a&o Graz Main Station
a&o Frankfurt Galluswarte
a&o Hamburg City
a&o Köln Neumarkt
a&o Leipzig Main Station
a&o München Laim
a&o Nürnberg Main Station
a&o Prag Metro Strizkov
a&o Salzburg Main Station
a&o Stuttgart Main Station
a&o Weimar
a&o Wien Stadthalle
a&o Wien Main Station